Shipping
Shipping Information
BREXIT - Due to lack of clarity about import/export regulations, we have regretfully paused deliveries to the Republic of Ireland, Northern Ireland, and Europe.
Goods are shipped on a next day or 3 day service. Cut off time for next working day delivery is 1.00PM. We may be able to get it to you next day after this time - please call us, we're here to help! Please note that next day delivery is not available to all locations.
Due to increased online shopping and various other factors there are currently hugely increased pressures on the delivery network and for that reason Next Day delivery cannot be guaranteed at this time. Although our couriers advise us that 97% of deliveries are being fulfilled on time, there is the possibility that your order will be delayed by 1-2 days. This is completely beyond our control.
Our website calculates the shipping charge based on several factors including the weight, volume and the hazard class of products. Due to our huge range this may occasionally generate an incorrect amount, in which case we will contact you to discuss.
Please note a next day service is next working day, and does not include either Bank Holidays or Weekends.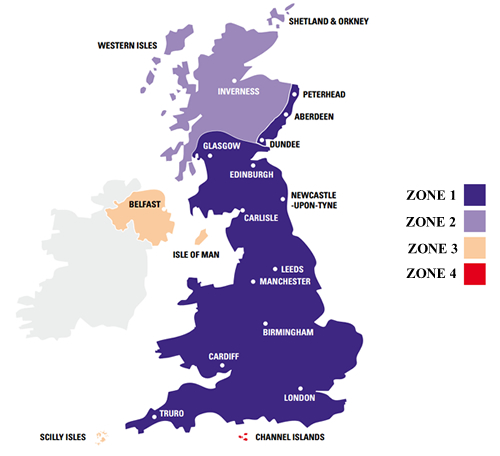 ZONE 1 & 2 – UK Mainland

Weight

3 Days

Next Day

up to 1 KG

5.60

6.50

up to 2 KG

6.50

7.90

up to 5 KG

6.95

8.75

up to 20 KG

9.50

10.50

up to 30 KG

13.00

14.95

up to 45 KG

13.50

16.50

up to 60 KG

15.50

19.50

up to 80 KG

27.00

34.00

up to 100 KG

36.00

42.00

up to 1000 KG

56.00

70.00

up to 5000 KG

65.00

75.00
Next Day By Noon add £5.00 to next day price – ZONE 1 ONLY (under 80kg)
ZONE 3 UK (N. Ireland & Offshore) – Add £9.00 – Not currently shipping to Northern Ireland

ZONE 4 (Channel Islands) – Add £35.00 – No Hazardous Goods

Isle of Wight – No Hazardous Goods

Scottish Offshore Islands – Add £16.50 – No Hazardous Goods – No Next Day

Rep of Ireland – Sorry, we are not shipping to Ireland at this time
To obtain the best possible prices and service we use 2 couriers - Couriers are assigned to orders based on weight/size/delivery location/hazardous nature etc
Our couriers will deliver between 7am and 6pm (In extremely busy periods deliveries may be attempted even later)
If a delivery is attempted a card will be left with collection instructions, and must be collected within 1 week.
If your delivery is important (ie. involving other contractors /workmen) please order in plenty time allowing for any delay that could cost you money. We cannot be held responsible for costs incurred. Late deliveries due to courier error rarely happen, but unfortunately can occur.
If you are unable to wait in for goods please call us or leave a note in the order comments section and we will arrange an alternative delivery address. Please note that due to the high value and hazardous nature of the goods, the majority of packages must be signed for. This is the policy of our couriers. Re-delivery after a failed delivery attempt may incur a charge to the customer.

Sometimes a 3 day delivery will get to you sooner, dependent on courier's route. Although our couriers fulfil next day deliveries 99.9% of the time, customers should please note that in certain circumstances (ie adverse weather conditions/ christmas backlog etc) this may not always be guaranteed. If your delivery is of a critical nature, please contact us for advice.
PLEASE NOTE: Due to shipping restrictions of hazardous goods, large amounts of resin etc may be decanted into 5L containers or delivered on a pallet. Please get in touch if you need clarification on your particular order. This applies to mainland UK only - Hazardous items such as resins cannot be delivered over water.
Royal Mail delivery is not offered by our website - Orders for lightweight non-hazardous items can be placed with our sales team on 0191 4975134.
Stock & Picking
All goods are from fresh stock which have a shelf life of 6 months from the manufacturing date; We guarantee most of our products for 3 months after dispatch.
Specialist resins such as bonding pastes, fire retardants, chemical resistant , tooling and roofing resins/topcoats we supply with at least 1 month shelf due to low demand on these products. However as long as they are kept in a cool dark place they will in practice last a lot longer: Simply do a small batch test each time before use if past recommended use by date. As long as the product cures it will still be ok to use on most general applications.
All goods remain the property of East Coast Fibreglass Supplies Ltd until payment has been made in full. We assume no liability whatsoever in respect of application, processing or use made of information or products accessed via this website, or any consequence thereof. Users should always satisfy themselves as to the suitability and safety of products used.
Please check your order on receipt, and inform us of any shortages/mispicks within 7 days. If a picking error occurs we will rectify and dispatch next day.